Guide to Boku Online Casinos in Canada
In order to reach as many potential clients as possible online casinos are always working on adding new features and conveniences for their customer to use. Online gaming has expanded from desktop computers to all the portable gadgets we're carrying around with us – the era of mobile gaming and gambling is upon us. To facilitate the use of casino services for mobile clients, the operators are adding more and more mobile-compatible games and features to their platforms. One of these features is Boku, a mobile payment service which allows casino members to transfer money via mobile to their gambling accounts at record speed. This modern technology is finding home at an increasing number of online gaming venues, since more and more online gamblers see the benefits of paying via mobile. Using Boku is not difficult; the system is secure and quite efficient and enables a certain level of control over one's finances. If you've heard of Boku but you weren't sure whether online casinos accept it, now you know – deposit by Boku casino is becoming one of the central mobile payment processors in the area of online gambling.
How Does Deposit by Boku Work?
How to Make a Deposit and a Withdrawal?
New Boku Online Casinos of 2023
New Boku Casinos are easy to find as most new casino sites are open to offering their players new payment methods such as Boku. As a general rule of thumb if you hop from one recently launched casino to another you will have no problems with payments. Below you can find a number of fairly new online casinos that accept Boku as a means of deposit and withdrawal.

Before you start brainstorming how Boku works, you need to make sure that your mobile phone and your mobile account package support mobile payments. That is a requirement for the Boku transactions to be possible. It also depends on your mobile carrier whether you can use Boku or not. Another thing you need to have in mind before you start using Boku is the amount you wish to deposit and the nature of your mobile account combined. If you make use of a prepaid mobile number, then it's essential that you always have enough credit to be able to make a purchase, in this case a casino deposit. If your contract with the mobile carrier includes a postpaid number for which you settle your bill each month, then the mobile service of transferring money to a casino website will be included into your next mobile bill.
You may think that such a specific service like Boku isn't available in many countries, and only the privileged ones can make use of its services. On the contrary! Boku is accessible from more than 60 countries, nearly 70, and covers markets such as UK, Austria and Finland, and USA as well. More than 250 mobile networks around the globe are connected in the Boku payment processing system; some of them are AT&T, Vodafone, Sprint, Orange, Swisscom, Virgin Mobile, and Deutsche Telekom. Since it caters to a multitude of gaming markets, Boku supports various local currencies.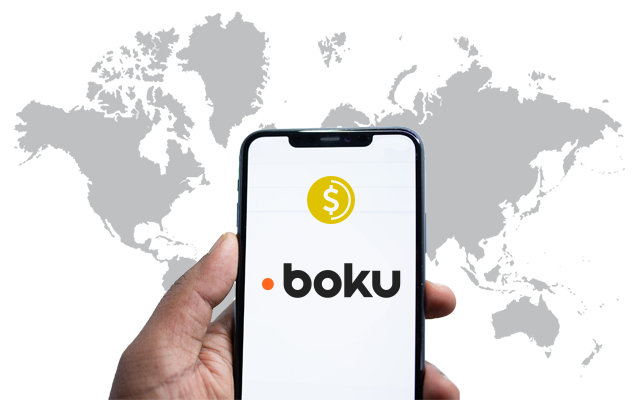 It's not necessary to enter any personal details or to complete a registration to use Boku. Simply go to the cashier's page and select Pay by Mobile/Boku from the list of available payment methods. Then, you'll be offered a selection of mobile carriers from which you'll pick your company. The two next simple steps are to enter your mobile phone number and the amount you wish to deposit to the casino balance. Keep your phone on and wait for a verification text. Confirm your transfer and check back to see the update of your gaming balance – the funds should be added to your account right away.
Boku does not support casino withdrawals, unfortunately. It's simply not possible to withdraw money from a casino balance and transfer it back to your mobile credit or deduce it from your next mobile bill. Once certain technical issues are resolved, there might be a chance to have this service enabled in the future. Luckily, Boku users are always given favourable alternatives when it comes to cashing out. Bank transfer is usually the simplest choice, although the slowest as well.
The safety and security of Boku payments are guaranteed by a multi-layer protection scheme that is actually quite basic and effective. The fact that Boku doesn't require any personal information for making deposits means that these details will remain known to you alone and therefore safe from any internet mischief. The hackers can't abuse info that they don't have. There's nothing they can do with your mobile phone number, and that's the only thing that's needed to use Boku. SMS verification is also a security measure; it serves to authenticate the transaction amount. If you don't confirm the payment, the process will not finalise.
Pros:
The system doesn't include any fees
The system doesn't require registration
Deposits are instantaneous
Easy to use
Available in nearly 70 countries
Cons:
Boku allows casino deposits through mobile only. Withdrawals are disabled
The limits of your mobile credit and postpaid account will limit your deposits
High rollers may not find it suitable