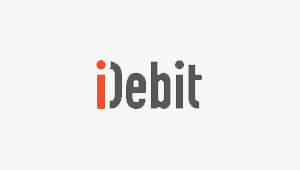 The number of online sportsbooks that accept Canadian players is rising. That's good news of course but it means that players here need to see all their gaming demands met. Among those needs is a requirement for a wide choice of options with which to deposit to and withdraw from that playing account.
As a company that is specific to consumers in Canada, iDebit is the first method of choice for many. More operators are starting to accept iDebit so, in this review, we'll look at how it all works.
What is iDebit?
For Canadian customers who are already familiar with the separate Instadebit organisation, they will find that iDebit works in exactly the same way. For those that aren't 'in the know', the online banking process is really very simple.
iDebit isn't a traditional eWallet such as PayPal where funds are stored in your account ready to transfer to merchants or to send to friends and family. Instead, iDebit is linked to your preferred bank account and can pay for goods or services at any retailer that accepts it.
It's likened to writing a check online but the difference in this case is that none of the consumer's bank details are disclosed. That extra level of security makes using iDebit a popular online banking option for Canadian consumers and the company has built up a strong customer base in a short space of time.
Full details as to how the service works can be found on the iDebit homepage. It's simple to follow and essentially, it just involves signing up and confirming your personal details before linking your chosen bank account.
One final point to note: Because of the way the iDebit service operates you can't make withdrawals to your iDebit account. This isn't an eWallet that stores money so, while you can make a sportsbook deposit to your favourite online betting company, you cannot withdraw back the other way.
FAQs About iDebit
Is iDebit Safe to Use for Canadian Bettors?
Like most third party providers, there is a built in level of security with iDebit account that makes it extremely popular with Canadian bettors. When you're making iDebit payments, your bank details are not shared with the sports betting company and no information is therefore shared online. While your online sportsbook may also be safe in terms of their level of security, it helps to keep shared financial information down to a minimum and this one is a really positive start.
iDebit does not process credit cards and this is another strong point. Only your bank account details are stored within the site and their own level of security and encryption is high enough to protect you when accessing your account. So, when you ask is using iDebit safe, this knowledge and information should give you peace of mind when using them online.

How can Customers Perform an iDebit Login or Registration?
Another benefit of iDebit that attracts customers is the fact that registration isn't actually necessary. If you are making a one-off payment to an online sportsbook or other retailer and you don't think you'll be using this option again, you can simply fill in your details as a guest and there is no need for an login.
However, if you are a regular bettor then it makes sense to complete the sign up. This way, the company will store your records and you don't have to keep entering your iDebit payment details whenever you come to make a transaction. Signing up with iDebit is very easy and the operator will only ask for essential personal information before asking you to verify your identity. Once this is complete, you can use your login to make ongoing iDebit payments to your sportsbook or any other ecommerce retail site that you happen to use further down the line.

Are iDebit Payments Available at Canadian Betting Sites?
The answer to that question largely depends on which online Canadian sports betting site we are discussing. They are a Canadian company so, when making iDebit payments, the online sportsbooks that focus on North America are more likely to accept this as a means of funding.
If we take Sports Interaction as an example, this is a company who believe themselves to be Canada's number one online sportsbook and they keep things loyal by including iDebit as a funding method.
Sportsbook deposit and withdrawal options are usually shown at the very bottom of a bookmaker's homepage and that's the case with Sports Interaction. If that information is not there, you may be able to find a separate online banking payments page which explains things in more detail. Alternatively, the definite way to find out whether a company accepts iDebit or not is to fire a question across to customer services.

iDebit and PayPal
At present, there are no options to transfer money between PayPal and iDebit and vice versa. With some traditional eWallets, it is possible to connect the company with PayPal by way of a prepaid debit card but that isn't the case here.
Idebit only works with banks and traditional financial institutions so there are no transactions between itself and PayPal at the moment.
iDebit in Canada
We're talking about a Canadian-based company here and that means that iDebit is open to any qualifying resident. It is working hard to cover every financial institution and all relevant banks can currently be linked.
As such, any retailer – Canadian or otherwise – that accepts iDebit as a form of payment, can be accessed by Canada nationals.
iDebit Charges
There is no charge to sign up for an iDebit account so potential customers can get online and get signed up for free in just a few minutes. Fees do, however, apply for any transactions that are made. Remember that these are subject to change in the near future but as of February 2019 when this iDebit review was written, they stood at a flat rate of $1.50 CAD for all purchases.
The only other charge that can apply at present with iDebit is for returns. If, for whatever reason, it is necessary for a retailer to refund a purchase, a charge of $2.00 CAD will be made for that refund to be transferred back into a customer's bank.
That's a summary of charges from iDebit's point of view but do be aware that a small percentage of retailers may add their own fees. This includes sportsbook operators who can add a small cover charge for processing. In many cases the transfers will be free but check under any sections marked 'payments' or check with customer services for clarification.