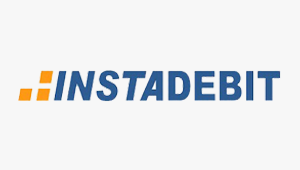 Sportsbooks that accept Canadian customers will often look to provide ewallet services to allow players to fund those accounts. Ewallets and similar services are not a traditional bank but they store money securely for customers to transfer and pay for a range of items online.
The majority of those additional funding options are global operators but with Instadebit, we have a company that is proudly Canadian. That's undoubtedly a bonus when it comes to deposits and withdrawals but how does Instadebit work and what other points do we need to be aware of?
What is Instadebit?
Instadebit describe themselves on their homepage as a secure bank based payment method that is available to consumers in Canada. This is not an eWallet in the traditional sense as customers cannot transfer funds from their bank into an Instadebit account. Instead, they would find a retailer that accepts the service, click on the Instadebit button as a payment option, and funds would then be taken from the bank to cover the purchase.
This means that bank accounts need to be linked up when account holders complete registration. A simple step by step process is shown on the website under the page marked 'how it works'. Full instructions are then laid out and this is a very simple way to pay online.
In regards to sportsbooks, the process means that you can only add funds to your account using Instadebit. You cannot withdraw there because the company does not actually store funds in your Instadebit account.
Instadebit to PayPal
Because of the way that Instadebit works, there are no options to transfer directly to and from PayPal. Only traditional banking institutions can be linked to an Instadebit account and Paypal does not fall under that category.
Other, more traditional ewallets, can provide this option but Instadebit simply doesn't allow for it.
Instadebit in Canada
As a Canadian company, Instadebit is open to any qualifying consumer in Canada. It is specific to the country and can now accept every bank and recognised financial institution here.
In recent times, it has made big inroads into ecommerce and is now being accepted by some big names including Facebook. In terms of gambling companies, Instadebit is accepted at Sport Interaction who are another Canadian based firm and are the first choice for many players in the country. The list of bookmakers who accept Instadebit is growing and this is a fast and flexible way in which to add funds to your account.
Instadebit Charges
Currently, there is no charge applied when opening an Instadebit account. The process is completely free and no upfront fees will apply. There will, however, be charges made whenever an instadebit account is used to make purchases online. These are subject to change but at the time of writing in February 2019, they stood at $1.95 CAD per transaction.
In addition, if a retailer issues a refund to your Instadebit account for whatever reason, a charge of $2.00 will be made to withdraw this back into your source bank account.
Those are the charges made by Instadebit but it's important to check whether the retailer requires any additional fees themselves. In the case of online sportsbook operators, they may be free but occasionally, there are charges put in place for using ewallets and similar methods such as Instadebit.
It's easy to check up on this point: Many sportsbooks will have a separate payment section where details on fees and transaction times are kept. However, if you are in any doubt, check with customer services for confirmation.