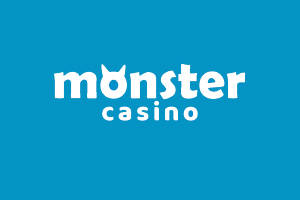 Standing out in a crowd isn't exactly an issue for the likes of Monster Casino, as this website has a fearsome roar that can be heard for miles around. This new gaming site has a fabulously green colour palette, alongside a recognisable logo that grabs your attention: a cute one eyed monster. It's not as scary as the name suggests, but rather cute and cuddly, an environment in which you'll want to play and explore all possibilities. However, with the brand being so new there could be trouble ahead, and so we're on hand to see where any kinks are on the road to this website's success may lie.
Bonuses and Promotions
When it comes to the bonuses available, you notice that a lot of the promotions are geared up primarily towards new players; there's four in total, with only two others on hand that are open to all gamers. This feels a little like overkill, and yet we're also impressed at how much effort this brand is putting in to ensure that newcomers are happy when they register. This is most notable in the fact that first promo is that of a free L5 with no deposit required.
Thereafter, you have three deposit bonuses that range in size from 200% down to 100% and then a much lower 50%. Although their generosity reduces over time, they're still good rewards to be given for making those first three allocations of cash, and so again, we're impressed by what we're seeing. That being said, do keep in mind that each of these bonuses comes with a 30x wagering requirement each, as well as a min deposit of L10 being necessary to start the ball rolling.
What is unusual here is the lack of exclusive membership. We know that not all casinos have them, but for a brand new site we expected them to have conformed to the tradition of loyalty points if nothing else. And yet, from what we can see, there's nothing to reward you for continued play and real cash deposits. It's an odd one, and an issue that could become bigger if the brand doesn't eventually include some kind of membership reward system that goes beyond the occasional bonus.
Software and Casino Games
As we move onto the games and their software, we become aware of the sheer number of activities available here: there's said to be 250 in total, with the numbers increasing on a regular basis. Another positive of this increase is that new games tend to deliver special offers alongside them, which is a lot more than many other casinos do, and so Monster Casino has the edge. That being said, it isn't all about rewards, it's also about gameplay, accessibility, and user friendliness.
This UK friendly website will allow you to test out some of the games you see, with the Live Casino being an exception due to the software and general nature of the games. You can't play a demo of a live action title. To try before you buy, so to speak, simply select the 'demo' option and the game will start to load. We found that the majority of the software, be that from Barcrest, Microgaming or Nektan all loaded quickly and without any issues, though do be aware that peak times could hinder the experience.
Banking
Seeing as how this is a Nektan Limited owned casino, the payment methods you've seen on their other sites will apply here also. What this means, if you're still uncertain, is that the options are limited but fair in their range – there's ewallets and credit cards, with little in between. Although this isn't unheard of, some providers allow telephone payments or mobile bill transfers, as well as bitcoin. Still, we make do with what we have to hand, which includes Boku, VISA, Skrill, and so on.
In regards to withdrawing your funds, you'll find that the service can take up to 72 hours and that you'll need a minimum of L20 before you can proceed. Furthermore, only one withdrawal can be done every 24 hours, further limiting your account. On the other hand however, monies such as US Dollars, British Pound Sterling, Euros, Canadian Dollars, and New Zealand Dollars are permitted and so not everything is limited. If you require a greater range of accepted currencies, you'll need to seek out more internationally orientated casinos.
Company Background and License
As already stated, this site is owned and operated by Nektan, which means that it comes from a respected brand within the industry. Moreover, it means that you have two licenses at work here, one from the UK Gambling Commission and the other from the Government of Gibraltar. Aside from this, all you need to know is that this is a brand that launched in 2017 and so the label is still in its infancy. However, judging by other Nektan casinos, the brand will be here for some time yet.
Customer Service
If you should ever need help during your visits to this website, there's several ways in which you can do so. There's the typical means of email, live chat and via telephone, but there's also the address of the company provided so that you can write to them as well. We like that Monster Casino keeps it simple and direct, allowing you to choose which type of help you want and then to go from there. There's no gimmicks or social media fallout, and from our own experience, we found the staff always ready and willing to help. That being said, the support doesn't appear to be available 24/7, which is the only downside we could find at this time.
Final Thoughts
The Monster Casino has served us well, gifting us with many different games to explore. Nevertheless, we can't help but feel that Nektan have done little to really set this website apart from its others, which means you could play any one of their sister sites and get the same results. We'd like to see more innovation here, a daringness to try something new rather than the conventional. Still, as far as ratings go, we'd give Monster four out of five stars.