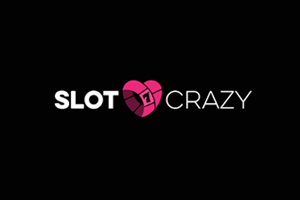 Sometimes simplicity is the key to success, be that in business or in your social life, and so we can understand why Slot Crazy came into being. This well designed, yet simple, platform allows users to engage with a wide array of games, coupled with exciting VIP prospects, and the chance of engaging with some delightful promotions. It's true that all this, and sometimes more, can be found at other online casinos, but we'd argue that none deliver the goods quite so seamlessly as Slot Crazy does.
Bonuses and Promotions
When it comes to promotional materials, we always expect to be given either a lower than average amount, or a selection so varied it's almost off putting. With Slot Crazy, we're given a small but considerable range of bonuses, with one part of the welcome package involving a reward for simply being a member. No strings attached, just because you signed up; true, it's only 10 free spins, and you do need to register a payment method before being given them, but no deposit has to be made.
As for the main event Welcome Bonus, that comes in the form of a 100% match up to what you allocate, with 100 spins thrown in for good measure. Just remember that a minimum of L10 is needed to access this, and you won't be able to deposit more than L100 in regards to this bonus. Follow those simple rules and you should be all good to go, no code needed. As for the spins, they don't come all at once but in groups of 10 intervals, every three days; it's a little fiddly, but we can look past that for the most part. What isn't fiddly is the 30x wagering requirement, which is a nice happy medium amount in the online gaming scene.
In regards to becoming a VIP, this is where the brand goes a bit off track; they put information regarding this club into two different sections, when they should be placed in just one. Yes, it's a trivial design matter, but it's important to draw attention to so potential new users don't get confused by the two subheadings of VIP Club and Loyalty (they're one and the same). The Loyalty section just appears to explain everything clearly to you, which is handy but could have been done all in one place. As for the club itself, it's another loyalty points system, with the highest level only accessible by invite only. To see the ranks and how to progress through them, you need only visit the VIP Club page.
Software and Casino Games
To help separate the game types for its users, there's a Slots part of the website and a Casino one, allowing for easy navigation. Although it could potentially confuse newbies, we like that Slot Crazy has taken the time to lay the distinctions between the two, as it makes finding what you what a lot more hassle free. Speaking of, there's also a search bar that'll handily allow you to look for a specific game you like, though you'll need to be familiar with the title to do so.
The thing is, if you're hoping to get sneak previews of the games, you're out of luck as Slot Crazy has no demo versions on offer, at least not to guest customers anyway. This may seem a little frustrating, but the signup process isn't hard, not to mention you'll have access to Playtech, NetEnt, and Microgaming titles in an instant upon becoming a standard member. That's quite a select but impressive catalog of brands, arguably some of the best currently available.
We do have one criticism of this contemporary casino though, and that's that there's no Live Casino option on hand. Given how new this software is, it's not overly unusual, however given how popular it is already, a brand like Slot Crazy would do well to include it in their games list in the near future. Still, given that there's 20+ regular casino classics on standby, we don't foresee too much of a problem on our hands, maybe just mild annoyance at best.
Banking
We move onto banking now and Slot Crazy's selective group of payment options; it's not that the methods aren't reliable ones, they are, just that there's few of them when compared with other brands. Nevertheless, we do have more peace of mind when engaging with brands such as PayPal, Paycardsafe, Entropay, credit/debit cards, and transfers via telephone. Plus, simplicity should mean that less can go wrong, which is always good news for our bank accounts.
As for the limitations of the deposit and withdrawal process, it's the latter that presents us with the longest waiting game, with the completion of the transaction taking up 10 days (depending on your payment method). Consequently, the speed in which you deposit is definitely not matched when trying to access your money from account to bank, which for some could be a deal breaker in the long run. However, at least Slot Crazy have been upfront about their processes and the time it takes.
In regards to the currencies allowed with this label, it's another small grouping, consisting of GBP, Euros, US Dollars, and Canadian Dollars. A lot of UK based casinos tend to have a limited set of currencies allowed, so this doesn't surprise us, yet we know it could put some players off.
Company Background and License
The transparency we've seen elsewhere in regards to the brand can be championed again when looking at the company's background; Slot Crazy open up in their About Me section. True, it doesn't give the age of the casino, but it didn't take too long for us to discover that it launched in 2015. And while it may not gift us that information on the site, it does provide the address of where the casino's offices are located, which isn't typically provided by other websites. Coupled with this, we then have the knowledge that the label is licensed by the UK Gambling Commission and the Gibraltar Gambling Commissioner.
Customer Service
So far we've sung the praises of this casino without little question, a truth that'll continue into this next section. That being said, we are more than aware that the customer support provided isn't nearly as broad as it could be, and therefore limits how accessible the company is to some users. This is because there's only an email address and telephone number provided, with the FAQs offered for the more simple matters. It isn't that this isn't substantial enough, because it is, it's more that we've come to expect brands to go the distance and offer live chats, even messenger services via popular apps.
Final Thoughts
Will you go crazy when playing Slot Crazy? Not really, but you will feel positive throughout your stay and engagement. As we've already touched upon, there's not a lot wrong with this gaming website, with most of the necessary components in working order, or otherwise being improved. That being said, we'd like to see more customer support, and a more thorough payments list, as the current one is a tad restrictive for some players.