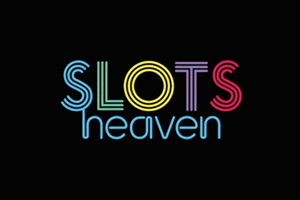 The neon lights of the 1980s seem to be back in full force, thanks to the design of Slots Heaven, the best casino that is primarily focused on delivering slot machine games. This Playtech heavy offering may feel a bit on the hectic side, due to the atmosphere and design of the brand, but we promise you that fun can be had here. This is a modern day casino for a wide array of players, even despite the niche that the website is designed for. Having been delivered a website that is optimised for gaming on the go, as well as offering a means of downloading the software, we're ready and willing to get started with Slots Heaven.
Bonuses and Promotions
We're getting a little bit of deja vu when we look at the promotions delivered by Slots Heaven, as some of them we've definitely seen before. However, while there's a sense of repetitiveness about them, we can't ignore the fact that what they offer is impressive. For example, the welcome package has a 200% deposit bonus, as well as the gift of up to 200 spins. To access this you'll need to register and make an allocation of money to comply with the rules, with a minimum spend of L10 needed. The end result can be as staggering as L400, but that final figure depends on what you deposit, so be warned. Also, the spins are only playable on the Age of Gods slot, and the wagering requirement is x40.
In addition to the above, there's also the Make Your Match feature, one where you get a top up of your bankroll at the beginning of every month. As always, this doesn't come for free, and so you'll need to deposit using the code 'FIRST1' once you've found the Cashier section of your account. This is a reload bonus and so you only get a 100% match up, but it'll be deemed as a significant perk for many regular gamers. Thereafter you have monthly specific rewards, as well as the membership part of gameplay.
As is common with a lot of online casinos, there's a loyalty points system incorporated into their VIP membership. The task is simple: you keep playing and obtain a set amount of LPs for the wagers spent, with the result eventually leading to you moving up the levels. As always, the levels are simple and based on a system of Bronze through to Gold and then VIP and Elites at the very top, with the latter two designed for high rollers. All of the games gift LPs, but some require bigger deposits than others in order to access said points.
Software and Casino Games
This may be called Slots Heaven, but you'd be surprised how many tabletop and Live Casino opportunities are listed here; we'd go so far to say the title of the casino is misleading. Inside the Slots category alone there's at least a hundred activities up for grabs, though all of them require you to become a member before accessing the actual gameplay. This may be tedious, but at least you can interact with the titles and learn more about the basics of the games, and what genre those games fit into. Free versions may be available upon becoming a member, but we wouldn't like to speculate.
Inside each of the categories of activities there's then further subheadings, all designed to streamline this experience as much as possible. It's a well thought out system, despite our initial concerns regarding the chaos surrounding organisation; Slots Heaven has proven us wrong. As always, the Live Casino offers the smallest number of titles, though that doesn't make it any less appealing, due to the virtual reality of the games and the engagement you can experience.
As we've previously touched upon, this is a website exclusive to Playtech software, meaning you won't come across any other software brands. This may put some customers off, but we like knowing that what we get is a highly regarded label within the gaming sector. Sometimes less is more, and this is one of those occasions.
Banking
Seeing as how we've already noted that Slots Heaven has a thing for organisation, it shouldn't be too shocking to note that they've listed all their payment methods in one place. This might sound like a minor factor, but many online casinos don't cover this basic requirement.
Upon finding the list of methods, we discovered that there's a balance between credit cards and ewallets, with the latter being offered more readily; in among the mix you'll find Skrill, Neteller, paysafecard, and VISA. All of the deposit times are instant, though there's no feedback in regards to the withdrawal times, but realistically we know that they take slightly longer. Furthermore, we're made aware of min and max limits, with between L15 and L20 being the standard min requirement for all.
As this isn't a heavily restricted casino in regards to countries, we see a large influx in accepted currencies, such as Dollars, Kronor, Euros, Pounds, Francs, Rand and Yen. This is quite typical of international brands, and so it's not like Slots Heaven is doing anything out of the ordinary here, though their coverage should be commended.
Company Background and License
As this is another casino under the Mansion Group label, we can rest easy knowing that excellence is what they strive for, as demonstrated by their small but reputable range of online casinos. Alongside this, we know that Slots Heaven was released much later than its sister casinos, being first established in 2013, thus making it a fairly young gambling platform.
In regards to licenses, due to our experience with the owners already, we know that two licenses are held by Slots Heaven, one from the UK Gambling Commission and the other from the Gibraltar Regulatory Authority. If this shouldn't be enough for your peace of mind, there's also SSL encryption in place to protect the personal information you divulge to the brand upon registration and thereafter.
Customer Service
When it comes to customer support, we're provided with telephone and email as our two options, which is a little disappointing. However, despite the lack of depth here, we can still remain positive as the customer service team are on hand everyday of the week, 24 hours of the day. This, in turn, balances out the service overall, resulting in an acceptable form of addressing queries. Nevertheless, we'd like to see the Mansion Group aim to implement live chats in all of their casinos sooner rather than later, as it's more convenient for most gamers.
Conclusion
Slots Heaven is one of the newer casinos to come from Mansion Group Casinos, which is obvious in its design and atmosphere – it's more lively and exciting. The neons flash and lure you in, while the games offer you a medium range of delights far beyond that of merely slot machines. We like the brand and what it does, but as ever, elements of the final product could be improved upon to ensure greater customer satisfaction.