SpinIt Casino Review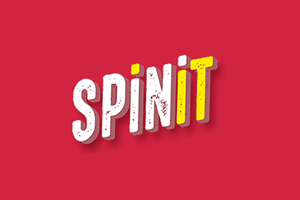 A sea of colour comes to us from the Spinit Casino, one of berry pinks and pearly whites, it's a lovely scene, and one that encourages us to game. From this intense and attractive palette alone, we can understand why the relatively new brand has created such waves within this industry. Along the course of our review, we'll look into not just the looks of this fresh site, but how it functions, the software it offers, and ultimately whether it has everything an online player needs to be satisfied when visiting a new UK casino. We're excited, and we hope that you are too.
Bonuses and Promotions
One of the chief reasons we support the promotional material of this website is because of how organised some of its sections are, like the bonuses. Instead of lumping every single offer together, Spinit have a category for the welcome offer and then another for the remaining bonuses. We like that we can easily seek out what we want, regardless of whether we're a guest, newbie or seasoned player with the company. The casino is off to a great start, in our opinion.
In regards to the other rewards, these appear to be dependent on what day of the week it is, for example, you can only get the 25% reload bonus on a Monday. Even though the other bonuses are smaller in size, with the grandeur left to those that are new to the scene, we still like that there's offers that can and will appeal to returning gamers. However, we start to lose clarity when we look into the VIP offering from the brand, as it only lists the benefits of such a membership, rather than detailing how you come to access such wonders, such as personalised support, and birthday bonuses.
Software and Casino Games
When it comes to the games of Spinit, users really will be spinning to win, as there's over 1,000 titles on offer. That's an enormous amount of variance, not just within the same game type bracket, but others as well; there's slots, live casino action, and instant wins. Spinit have covered all their bases, resulting in an intense level of entertainment for everyone who decides to play with the label. And best of all? If you intend to game for nothing more than the fun of it, you can do that without the need to sign up, at least when it comes to the slot machines available.
Seeing as how there's a lot of activities to choose from, and navigate, the brand has sectioned everything off; players can choose to browse the whole list of titles, or they can go from one section to the other. What is more, there's a handy search bar, so if you know the name of the title you're looking for, you'll be able to find it with relative ease. Yet another convenient length that the brand has gone to to keep customers happy.
Another stellar example of great software at work is the sheer number of different providers available from the Spinit casino, there's roughly six in total, such as NYX, NetEnt, and Play'N Go. What makes this selection even better is that each game highlights the company behind it, displaying a logo in the corner of the thumbnails shown, thus making the gaming process even simpler. If you don't like a brand, you'll be able to avoid it with ease, or if you favour one over the other, you'll be able to pinpoint it without a problem.
Banking
Now is where we come to a stumbling point of the site, the banking information. It's available, don't misunderstand, but it isn't displayed as proudly or as easily accessed as that of the games or promotions. For anyone to uncover the deposit and withdrawal times, they'll need to scroll through the terms and conditions information, which can be accessed via the bottom of each page.
Most of the payment methods you'd expect, like credit cards, Neteller, Skrill, and Trustly are implemented here, so inputting money shouldn't be an issue for anyone. Popular methods have been sought after and used. As for the times to process these, it seems all of them are instantaneous except for debit cards and bank transfers, which can take up to four working days. We attempted to look at withdrawal fees, but the link given didn't work, and so we moved onto looking at the currencies accepted, of which there's many. Players can use euros, yuan, rubles, kronor, pounds, and dollars, to name but a few, with very few currencies unavailable during this time.
Company Background and License
In regards to the faces behind the brand, we're actually shown the team within the about me section that started this brand up in 2016, which helps create a sense of connection and resonance among users. What is more, we learn via this page that there's two gambling licenses in place, one from the Malta Gaming Authority and one from the UK Gambling Commission. As those of you who game online a lot will know, these are the top names you're always hoping to see.
Alongside this, Spinit also have SSL security, which is designed to give users extra peace of mind, seeing as how the gambling regulators already have countless rules to adhere to and follow. All in all, users should feel very comfortable when using this site, as it seems nothing has been left to chance, thus creating a sense of reliability and safety.
Customer Service
As for the customer service at work here, it's incredibly thorough. Not only are there frequently asked questions and a live chat, but there's also email addresses and telephone numbers available. These addresses are split into categories, such as general support and complaints, seemingly ensuring that your issue is dealt with quickly and professionally. For us as guests, we couldn't find much at fault with the options given, as every precaution seems to have been taken in order to prevent prolonged waiting times for an answer/results.
Conclusion
We have genuinely and wholeheartedly enjoyed our time with Spinit. This is a brand that appears to have gone above and beyond in order to deliver on every count. And even when the information is slightly tedious to access, the depth of information given is still such that we can commend them rather than scold them. This is an online casino that we expect will keep on drawing customers in, not only for its dedication, but also the level of games available within.