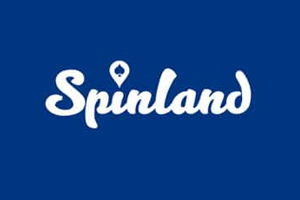 Today we have a modern casino for contemporary players, one that has only recently been established; Spinland is a fresh means of accessing the software and games you love. As there's many casinos available these days, it can become difficult to figure out which is the best for your needs. This is when we start to look at the entertainment and playful nature of a site, two elements which Spinland has in abundance. It might not be the cleanest looking design, in terms to layout, but it has a charged atmosphere to it that draws you in instantaneously.
Bonuses and Promotions
We're pleased to see that this vibrance is continued in the bonus section, which has one of the best promotional welcome packages we've seen in some time. However, this is only available to those that not only register but who deposit too, and so money will have to be involved if you're to reap its benefits. Furthermore, the amount you have to deposit seems to start off at a rather high L25, which is much steeper than what we're used to seeing, which normally starts around L10 or less.
The bonus works out at a 200% match, so if you bet the smallest amount of L25, you'll be given an extra L50 to play with, as well as 50 free spins on the games. No game seems to be specified in this section, and so it looks like any slot can be used in relation to this promotion. This strikes us as odd though, seeing as how the second and third deposit bonuses have spins associated with particular games: Wild Wild West and Reel Rush.
As for other bonuses, there only appears to be one more, a bonus that operates on a monthly prize draw. Given the age of this casino, this lack of content seems more than fair, even more so when you discover that Spinland provides a VIP membership for truly loyal users out there. The VIP seems to work rather differently here, in the way that you can fill out an application to be fast tracked to this special side of the casino. We're not sure we like this, particularly because you're already collecting loyalty points when you start playing. However, we guess it sets Spinland apart from other casinos.
Software and Casino Games
When it comes to the games section, we find that there's a chaotic nature to the setup, which in turn puts us off wanting to play. Perhaps it's just our personal preference, but the fact that nothing seems to be sectioned off or clearly presented, we start to feel overwhelmed. If you're able to overcome such feelings though, you'll find a wide selection of titles that come from some of the most popular providers around, such as Microgaming, Leander, and Thunderkick. When we see that many high end software developers in one place, we know to trust the casino we're playing with, even if it's in its infancy.
The games tend to be provide a play for free and play for real cash option, with the former available even if you're not a registered member. This is great because we can skip the signup process altogether, but on the other side it limits us because we can never walk away with the jackpots famed within the games section. Should slots and scratch cards not interest you, there's live dealers available, though these will require that you're a Spinland member before you can hope to access them.
Banking
As we move onto the banking side of the casino, we start to see the chaos breakdown any structure that was there, now leaving us with a type of free for all. This is because there's no set sections on deposits, withdrawals or any other questions that might arise surrounding money. There's the usual logos of providers given at the bottom of each Spinland page, which goes a little way to explain what users can expect, but other than that we're limited. We're not made aware of waiting times for withdrawals, what the fees for using these methods are, if any, or if we can use multiple methods on one account. If you're wanting to find information, you'll have to wade through the lists of the site map, a tedious affair that slows down your recreational gaming.
In regards to the currencies accepted and available with Spinland, we can see that the casino is incredibly varied: there's euros, dollars, kronor and pounds. All of these seem pretty standard for contemporary casinos, but being able to see such diversities from the off is a comfort, especially after the difficulties we've just experienced accessing banking information. As always though, there's currencies and countries that can't play with the brand, such as Denmark, France, and Russia.
Company Background and License
With regards to the about me section of Spinland, there's not much for us to engage with in terms of the history of the brand. However, enough is provided for us to get to grips with the vision behind the name, even if it's only in a very basic way. From what we've learned, this is a new site, and one that comprises of casino lovers who have worked in various sectors of the industry. Although this might not sound very experienced, that passion has ultimately created a page that's focused on customer enjoyment first and foremost.
As for licensing, that's in the hands of the UK Gambling Commission, one of the main regulators that tends to show up on online casinos. This can ease any worries you have about the reliability of this brand, even more so when you take into account that regular audits by eCorga are carried out.
Customer Service
Seeing as how this is a fresh and new company, it makes sense that the customer support has opted for methods such as live chats and emails, with the latter available 24/7. Even though we approve of this, we believe that a telephone number would have also been beneficial, simply because some people prefer to speak to an individual rather than engage in faceless correspondence. Nonetheless, this is of small concern given the amount of support that has already been offered. When we tested out the live chat, we found the response to be extremely quick, however we weren't playing at a peak time, which will ultimately impact on response times.
Conclusion
Overall, we've been impressed by what we've seen, even if it isn't always shown in a regulated manner. The clutter of the pages might be unsettling, but in general Spinland is a casino that could really go places, due to the amount of titles available, and how readily they're on hand to help customers. The only reason we could see this brand failing is if they fail to evolve with the industry, or if another bigger and better brand promises a lot more. However, for now we'd say that this is a top notch casino that has much potential.